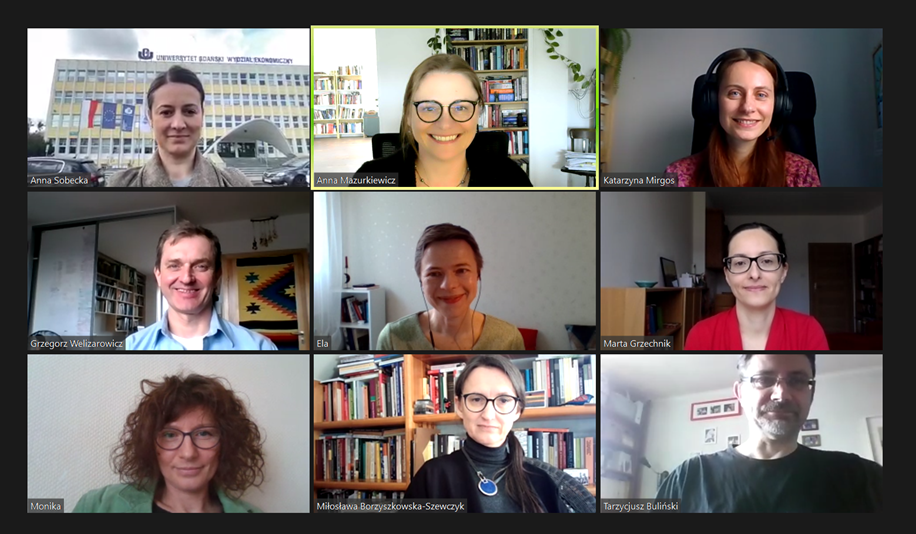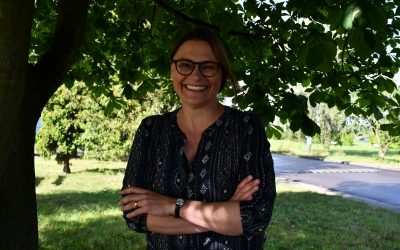 Anna Mazurkiewicz, Associate Professor (dr habil., prof. UG), is a historian, a graduate of UG (1999, Ph.D. 2006), chair of the Department of Contemporary History at the Faculty of History. She has published four books: on the American responses to elections of 1947...
In December 2021
International Border Studies Center
welcomed
new MEMBERS!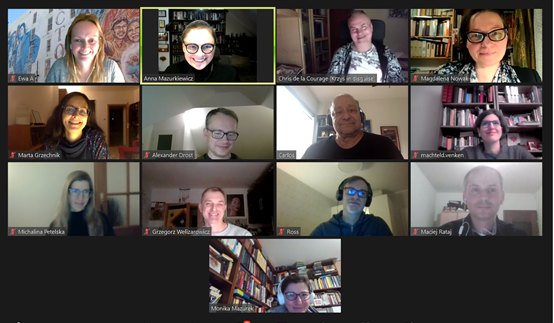 Carlos Morton is Professor Emeritus at the Department of Theater and Dance at the University of California Santa Barbara. He is an American playwright who has been one of the leading figures of the Chicana/o theater movement since the 1970s. Morton is former Mina Shaughnessy Scholar and Fulbright Lecturer to Mexico and Poland. Morton holds a M.F.A. in Drama from the University of California, San Diego, and a Ph.D. in Theatre from the University of Texas at Austin. In 1999 he was inducted into the "Writers of the Pass," in El Paso, Texas. Morton's published collected plays include, The Many Deaths of Danny Rosales and Other Plays (1983) and Johnny Tenorio and Other Plays (1992) both published by Arte Publico Press and Dreaming on a Sunday in the Alameda and Other Plays (Chicana & Chicano Visions of the Americas) (2004) on University of Oklahoma Press. He has published English language translations of four plays by contemporary Mexican playwrights in The Fickle Finger of Lady Death (1996, Peter Lang Press). Rancho Hollywood y otras obras del teatro chicano, (1999, Arte Publico Press & Ediciones EL Milagro) is an Spanish language collection. Recent works include virtual productions of Trumpus Caesar (2020) and Pastorela Fronteriza (2020). Caravana, lo que dejamos atrás opened in December 2021 produced by Teatro Taller Tegucigalpa in Honduras.
Machteld Venken is a Professor of Contemporary Transnational History at the Luxembourg Centre for Contemporary and Digital History (C²DH). She studied Slavic Languages and Cultures, European Studies and History in Belgium, Poland and Ukraine. Venken earned her PhD in 2008 at the Catholic University of Leuven (Belgium) and her habilitation in 2018 at the University of Vienna (Austria). She has been a Principal Investigator of eight research projects funded in four European countries. Venken joined the University of Luxembourg in November 2019 after a Visiting Scholarship at the Imre Kertesz Kolleg / Institute of Advanced Studies at the Friedrich Schiller University of Jena (Germany) and an Attract Brains for Brussels Fellowship at the Vrije Universiteit Brussels (Belgium). Her main research interests are transnational, transregional and comparative histories of Europe, migration, borderlands, oral history, the history of families and children, and citizen science.
Personal website: http://machteldvenken.com
 CurrentDr Ross Aldridge is a cultural historian whose research interests focus on the fields of Border Aesthetics and Border Narratives as they relate to the themes of national identity, protest, and performance. He is particularly interested in the symbolic importance of relict  borders in connection with the construction of British and English national identity. He is currently a lecturer in the Department of Applied Linguistics at Gdansk University, where he mostly teaches practical English courses, but he originally completed a PhD at the University of Reading, UK, on the cultural history of the First World War.
Martin Blaszk, Marta Skorek
Ewelina Banka, Aleksandra Kurowska-Susdorf,
Kazimierz Musiał a UG professor  at the Institute of Scandinavian and Finnish Studies, serves as Chair of the Interdisciplinary Research Group for the Study of Nordic-Baltic Europe and the Arctic, President of the Northern Europe Research Section at the Polish Association for International Studies, project coordinator of the Young People Network for Balticness supported by the Council of the Baltic Sea States. Current research: epistemic communities and knowledge regimes in Northern Europe.
Santiago Vaquera Vasquez is an unrepentant border crosser, ex-dj, Xicano writer, painter, and academic. An Associate Professor of Creative Writing and Hispanic Southwest Literatures and Cultures at the University of New Mexico, he has also taught and lectured at universities across the United States, Latin America, and Europe. He has also held Fulbright Fellowships in Spain, Turkey, and Poland. His books include, Algún día te cuento las cosas que he visto (2012), Luego el silencio (2014), One Day I'll Tell You the Things I've Seen (2015), and En el Lost y Found (2016). His most recent works are a photographic chapbook of photos and stories from his travels in Turkey, Yabancı [Foreigner] Extranjero (2019), and the novel Nocturno de frontera (2020). Widely published in Spanish, his literary work has appeared in anthologies and literary journals in Spain, Italy, Latin America and the United States. He has discussed his work with Eduardo Halfón and Daniel Alarcón in The Believer, and with Edmundo Paz Soldán and Santiago Roncagliolo in The Arizona Journal of Hispanic Cultural Studies. Commenting on his writing, Junot Díaz has said "Santiago Vaquera is literary lightning. He impresses, he illuminates, and when he is at his best you are left shaken, in awe."
Krzysztof Ulanowski is an Associate Professor (Ph.D.) in the Faculty of Social Sciences, department of social anthropology (University of Gdańsk). His main scientific interests related not only to anthropology but to Religious Studies, History, Classical and Oriental Studies. This is reflected in both; the research topic, i.e. the study on the influences of the Mesopotamian civilization on the Hellenic (and Hellenistic) ones, the differences between religion, magic and divination in history and contemporary times, the anthropology of ancient cultures, the borders between religions and cultures, the differences between holiness and exclusion in religious sphere and also the problems of religious minorities in Pomerania and magical rites of the contemporary world; and affiliation to scientific organizations Polish Orientalist Society (PTO), Classical Association in London (CA), Society of Biblical Literature (SBL), International Association for Assyriology (IAA), Societas Philologa Polonorum (PTF), General Association of Mediterranean Archeology (GAMA). He was a board member of international Melammu Project and member of Sage Project, conducted his research both in academic centers Paris, Padua, Athens, and field research in Mexico, Bhutan and Podlasie (Poland). He is an author of more than fifty publications: books, chapters in books and articles. The last book is dedicated to one of the most fascinating religious phenomenon i.e. divination and religious influences and interactions between civilizations: Ulanowski K. (2021). Neo-Assyrian and Greek Divination in War. Brill, Leiden, Boston.
Kinga Alina Langowska is a graduate history student at the Doctoral School of Humanities and Social Sciences UG. She studied archeology, history, German studies, and Gedanic studies. She is a research specialist at the Emigration Museum in Gdynia, interested in interdisciplinary research on the history of Polish migrations and borderlands communities.
Magdalena Nowak Associate Professor (dr habil., prof. UG) works at the Institute of History of the University of Gdańsk. She is the author of 52 scientific publications, including 5 monographs – 2 author's monographs, and a co-editor of 3 collective monographs. Her research interests include: Polish-Ukrainian relations in the 19th and 20th centuries; Polish and Ukrainian national integration, relations between the Catholic Churches of the Latin and Greek rites; the importance of religion in the development of the national consciousness of Poles and Ukrainians; historical tourism and public history, the biography and activities of Archbishop, Metropolitan Andrei Sheptyts'kyi (1865–1944) and his contacts with members of intelligentsia. Her recent work is a book entitled: Dwa światy. Zagadnienie identyfikacji narodowej Andrzeja Szeptyckiego w latach 1865-1914/ Two worlds. The issue of the national identification of Andrzej Szeptycki in the years 1865-1914, University of Gdańsk, Gdańsk 2018, pp. 614.  Dr Nowak is a Member of the Main Board of the Historiographical Association (2011 – 2017, 2017 – ) and the Chair of its Gdańsk branch. She is an initiator and coordinator of the online seminary entitled "Gdańsk Meetings of the Historiographical Association". She teaches history of Poland, Ukraine, civilization of the 20th century and methodology of tourism.
Izabela Morska is a writer and researcher, former Affiliated Scholar at ISEES and BBRG University of California-Berkeley (2003-2006), Yaddo, USA (2011), Fellow Researcher at RIAS, Sholokhov University in Moscow, Russia (2013), and Visegrad Literary Residency Fellow (2021). Her background includes in-depth examination of postcolonial discourses in literature and politics of selected countries (India, Nigeria, South Africa) in Glorious Outlaws: Debt as a Tool in Contemporary Postcolonial Fiction (2016). Her current goal is to explore why a political jargon, indeed a jumble of trite metaphors and questionable statements, as Orwell in his 1946 essay "Politics and the English Language" points out, is effective enough to induce once benign citizens to commit unspeakable crimes and to overlook cruelties, as well as to explore how and why certain stylistic patterns reappear in different political and cultural contexts, with a specific purpose of enforcing the autocratic rule, decade after decade, despite years of inclusive education.
Ewa Antoszek is an Assistant Professor at the Department of British and American Studies of Maria-Curie Skłodowska University in Lublin, Poland. Her interests include American ethnic literatures with a particular focus on Mexican-American and African-American writers, women's studies and representations of space(s) in literature. Her PhD analyzed multiple ways of identity construction in Chicana literature. She is the author of Out of the Margins: Identity Formation in Contemporary Chicana Writings (2012) and several articles analyzing issues related to the situation of ethnic minorities in the U.S. She is also the co-editor of Inne Bębny: różnica i niezgoda w literaturze i kulturze amerykańskiej (Different Drums: Difference and Dissent in American Literature and Culture; 2013). Her current research examines Latina authors and artists in the U.S. (re)writing the border. Her rescent works on that topic include: "Revisiting La Frontera: Consuelo Jiménez Underwood and Ana Teresa Fernández" in Latinidad at the Crossroads: Insights into Latinx Identity in the Twenty-First Century. Amanda Ellen Gerke and Luisa María González Rodríguez, eds. Brill Rodopi, 2021. pp. 135-151; "Immigration and the Expanding U.S. Southern Border: Casa en tierra ajena (2016)." European Journal of American Studies. 16-1. Spring 2021 (https://journals.openedition.org/ejas/16822) and "La Frontera Re-visited: Consuelo Jiménez Underwood's Borderlines Series" in El Mundo Zurdo 7: Selected Works from the 2018 Meeting of the Society for the Study of Gloria Anzaldua. eds. Sara A Ramirez, Larissa M Mercado-Lopez, Sonia Saldivar-Hull. San Francisco:  Aunt Lute Books, 2019. pp. 117-127. email: antoszek@umcs.edu.pl
Alexander Drost is an interdisciplinary historian, expert on cultural exchange, borders and borderlands and academic manager at the University of Greifswald. After studying history and German literature at Greifswald and Joensuu (Finland), he focussed on the research of cultural exchanges between Europe and Asia in the early modern period. His doctoral thesis on "Colonial Sepulchral Culture in Bengal" (2007) is based on archival research in London, The Hague, Kolkata and field trips to the burial grounds in India. His follow-up research on "European Borders in Asia" provides the basis for studying two maritime regions from a comparative perspective, namely the South China and Baltic Sea regions. The latter has been his research focus since 2006 after he began to manage the research activities and graduate programmes on the Baltic Sea region. Following a brief teaching stint at the Friedrich Schiller University in Jena from 2009-2010, he developed and managed the interdisciplinary and international research programme on "Baltic Borderlands: Shifting Boundaries of Mind and Culture in the Borderlands of the Baltic Sea Region". This programme has yielded fresh impulses in the study of the Baltic Sea region and moreover strengthened the institutional support frameworks for studying this region. These primordial structures have now been consolidated in the Interdisciplinary Centre for Baltic Sea Region Research (IFZO), which Alexander Drost presently manages. His most recent publications include Collapse of Memory – Memory of Collapse: Narrating Past, Presence and Future about Periods of Crisis. (2019, together with O. Sasunkevich, J. Schiedermair und B. Törnquist-Plewa), "Borders: A narrative turn. Reflections on Concepts, Practices and their Communication". (2017) and "Bordering jenseits territorialer Grenzen: Intersektionelles Denken und Ungleichheitsphänomene in "Niederländisch-Indien" im 17. Jahrhundert" (2018).
Maciej Rataj is a Reader (adiunkt) at the Institute of English and American Studies, the University of Gdańsk. He holds a doctorate in linguistics from the University of Gdańsk (2012). Dr Rataj's publications include a book entitled Attitudes to Standard British English and Standard Polish: A Study in Normative Linguistics and Comparative Sociolinguistics (2016), over a dozen papers and book chapters published in Poland, the UK, France and Bulgaria, and other publications. He has also contributed to English language teaching by writing the descriptive part of an English pronunciation textbook, Say It Better (2020). He is interested in sociolinguistics, varieties of British English, cognitive linguistics, teaching English pronunciation and English for Academic Purposes.
Anna Podciborska is an Americanist and a graduate history student at the Doctoral School of Humanities and Social Sciences UG. She is involved in the Cold War Communication project and is a recipient of the Preludium 19 grant from the National Science Center (NCN). She is interested in the American Government's operations in Central and Eastern Europe during the Cold War, as well as U.S. social history, public diplomacy, and political communication. 
Michalina Petelska is an Assistant Professor at the Institute of History of the University of Gdańsk. As a historian she is primarily interested in Polish-Scandinavian and Polish-Canadian contacts in the 19th and 20th centuries. Dr Petelska conducts research also in the field of museum studies. Her research interests focused on the migration museums, dealing with both historical and contemporary migrations.
Cezary Obracht-Prondzynski
Katarzyna Pastuszak