The UG Cold War Communications Project is an affiliate of a division within the Library of Congress Radio Preservation Task Force.  See the RPTF Web Page
Its directors are Jane L Curry (USA) and Anna Mazurkiewicz (Europe).  Its goal is to encourage research and analysis of the broadcasts from West to East (and to a lesser degree East to West) that were key vehicles to fight the "Cold War" between the West and East by undercutting popular faith in their regimes'.  It is designed to encourage and propagate research on what these media broadcast and the impact of the broadcasts on popular opinion and, elite responses.
The project focuses on the period between 1948 and 1990 when the ideological battles of the Cold War were conducted largely over the radio waves with Western broadcasts such as Radio Free Europe, Voice of America, and West European stations as well as special BBC programming. These specialized radio stations broadcast news and cultural programs to listeners in Central and East Europe and the Soviet Union.  These broadcasts were intended to provide freer information and opinion than communist countries' controls allowed.  They were done, largely, in the languages of the countries to which they were directed and funded by individual Western governments.   In response, Radio Moscow and other stations broadcast into Western countries in Western languages.
Researchers working in or interested in this aspect of the Cold War and radio communications are encouraged to contact either director for further information about the ongoing research and their research interests.
Coordinators at IBSC: Anna Mazurkiewicz, Anna Podciborska (listen to her describe the early results of a pilot study here: https://ibsc.ug.edu.pl/vlog/border-seminar-may-2021/)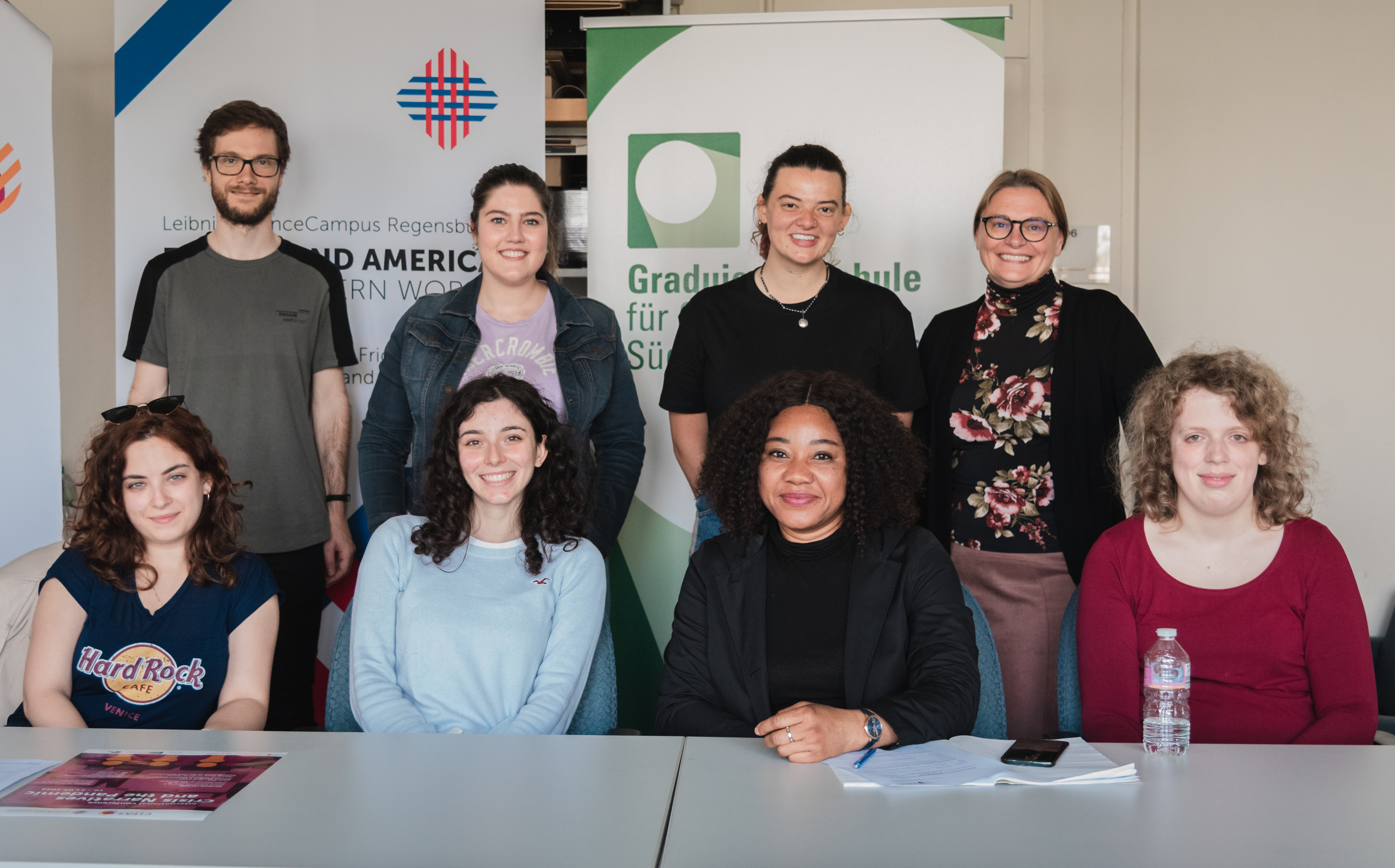 During the summer semester 2022, Anna Mazurkiewicz was a Visiting Professor at the Leibniz Science Campus Europe and America & Graduate School for East and Southeast European Studies, University of Regensburg. With a group of students attending her class on Cold War Exiles in the Global Cold War, she developed a project that aimed at creating a pilot glossary of political concepts developed in exile within a transnational framework of the Assembly of Captive European Nations. Students investigated annual runs of the exile journal: ACEN News and prepared preliminary entires. The author of each entry is indicated by the initials as follows:  LA – Lukas Alberter, IA – Ilayda Altinkaynak, FB – Francesca Belotti, GLG – Giulia Lo Giudice, AN – Anulika Nganaba, RS – Rebekah Smith, AI – Alexandru Iordan. According to the Students;
This glossary is intended for: Cold War historians, specialists in memory studies – filling the gaps in the legacy of exiles.
 Potential uses include: students, researchers, in Cold War, East European Studies, US soft power, Soviet domination.
CONCEPTS – before editing, entries will be added shortly
Age of Darkness
Americanization
An Over-all European Settlement
Appeasement
Aspirations of the Captive Peoples
Atomic Power
Balkanization
Baltic Women's Council as a tool
Big Brotherism
Brezhnev Doctrine
Captive nations
Captive Nations 2
Captive Nations FIN
Captive Nations Week
Censorship
Collectivization as a Weakening Policy
Communist Colonialism
Communist duplicity
Communist economic dogma/system
Communist Ideology
Concessions as a Peace Strategy
Concessions to Khrushchev
Cordon Sanitaire
Counter-Revolutionary Activities
Cultural Policies
Czechoslovak Spring
Defeatism
Defector(s)
Democratic institutions
Democratization
Denationalization and assimilation
Denunciation of Stalin
Détente 2
Deterrent
Difference Between EEC and COMECON
Disarmament
Disillusionment with Utopia
Distinction between captive nation and alien Russian Soviet power
Double Standard in the UN
Double Standard in the UN – FIN
East-West Cultural Exchange programs
Economic Autarchy
Economic exploitation of the Captive Countries.
Economic liberalisation
Engineers of souls
Europe whole & free  FIN
Europe Whole Again
Expansion of political and territorial influence.
Failure of socialized Agriculture
Failures of Communism
Flame of dissent
Forced collectivization
Fraternal Aid
Fraternal Aid FIN
Free elections
Freedom as Psychological warfare
Freedom as weapon FIN
Freedom Fighter
Freedom for the Peasant
Freedom of action
Freedom of religion and conscience
Freedom Rights of Bourgeois
Fundamental Freedoms
Geneva Spirit
Global Communism
Gradual Improvement
Grand Strategy of Soviet expansion
Homo Sovieticus
Hungary as a prison
Illegitimate Profit
Immutable Dogma
Inalienable rights for life
Independence Front as a Communist hold
Independence to the Colonial Countries, the Exile´s view.
Indoctrination of atheism
Influence of western media scares the communist leaders
Integration First
Interventionist Brezhnev doctrine
Kremlin Imperialism
Law or Recommendation
Long Peace
Mass deportation
Naive Use of the Most Favored Nation Treatment
Naked Power
National crystallization
Neglect of the Universal declaration of Human Rights.
Neo-stalinism
New Speak(Orwellian)
No end of the Cold War with captive nations
No rehabilitation
Non-aggression pact
Non-Aggressive Declarations
Nuclear Tests as a coercion strategy.
Old Bolshevik Newspapers
One-party dictatorship
Oppression
Orwellian Approach of Surveillance
Party-mindedness
Patriotic Priests
Pax Sovietica
Peace offensive
Peaceful Coexistence
Peaceful coexistence 2
People's Diet
Poland as a globally important souvereign nationgn
Poland as a historically western nation
Polish October
Political Emigres
Political opposition
Political rights in captive nations
Political unreliability
Political Warfare
Principle of Self-Government
Process of Detente
Production Anarchy
Psychological intimidation
Puppet Government
Radical Youth Organization
Red Exploitation
Rejection of Limited Sovereignty
Resistance
Resolution on Political Prisoners
Restoration of Freedom and Independence
Restoration of sovereignty of soul East Asian nations
Revolution of Rising Expectations
Right of self-government
Right to National Self-Determination
Right to Self-Determination
Romania's Doubts
Russification
Russification 2
Russification Campaign
Satellite
Second Political Center
Self Determination
Self-determination
Shift of generations
Sick man of Europe
Socialist Commonwealth
Socialist realism
Sophistry
South-East-Asian countries as next targets of communist expansion
Sovereignty
Soviet Colonialism FIN
Soviet Consumer
Soviet Hegemony
Soviet Hegemony as Bondage
Soviet Indoctrination Campaign
Soviet Neocolonialism
Soviet Union as terror state
Sovietization
Sovietizationn
Soviets breach smallest societal units
Soviets exploiting the captive nations economically
Status Quo
Sweeping Liberalization
Symbolism of Neumann's Suicide
Territorial Integrity
Terror Machinery in Eastern Europe
The barriers of 'Iron Curtain'
The danger of "Europe to the Urals"
The de-colonization process
The Fate of Peace
The fresh air of the Czechoslovak Spring
The Most Dangerous Coalition
The Price of Freedom
The working class hates communism
Torch of Liberty
Ultra Leftism
Underground literature
Unfinished Soviet Expansion
Uniformity
Uprisings as heroic acts
USSR only held together by force
"Voice of the Fatherland" "Homeland"
Vote with their feet
Wars of Liberation
Warsaw Pact
Western Colonialism
Western Propaganda
Western vs Soviet Colonialism
Withdrawal of Soviet Troops and free election
Youth´s hopelessness about communism